New Grain Bin

Curving shining mammoth
Reflection shell
Vertically converging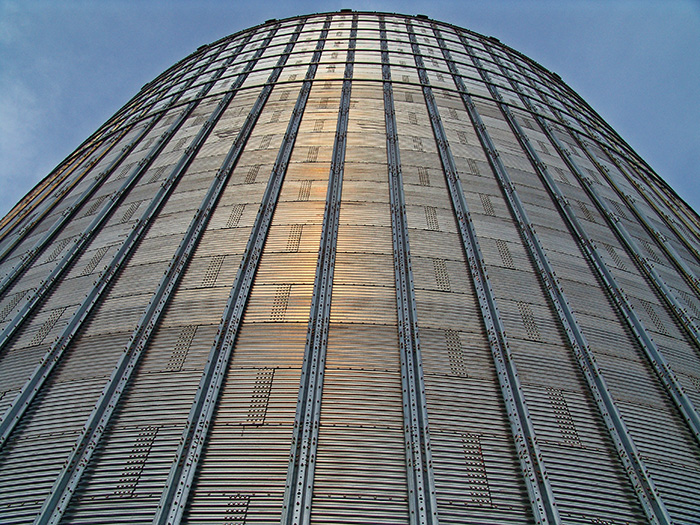 S ince my last trip to Higginsville, 16 miles to the north, the MFA Cooperative erected this giant grain silo to complement their agribusiness complex. This is the west side of the storage tower as it faced the setting sun. I was standing directly at the base looking up. On this occasion, the vertical convergence is used as an important design element.
One obvious and unavoidable aspect of photography is the fact that you can only photograph what is available. Since I am in a small town surrounded by farms, I frequently feature agricultural subjects in my work. Tractors, barns, cows, and farmhouses have all found their way into my portfolio. But I am especially intrigued by the grain elevators, both because of their scale, as well as their great variety primarily based on vintage. I have many shots of wonderful old ones, this undoubtedly is the newest one captured. With growth comes new opportunities.
"Solid multi-location grain company needs an Assistant Manager to "wear a number of hats." Successful candidate will be talking to farmers on a daily basis originating grain, do the merchandising when the manager is gone, assist with weighing trucks, grading grain, and other duties. Ideal candidate will have 2-5 years experience in a grain elevator, have some grain accounting experience, and be looking for a move up." - Available Grain Position